Even with testing ramped up to over 1000 per day, Lagos seems to show no new statistical surprise, posting 57 new cases on Wednesday.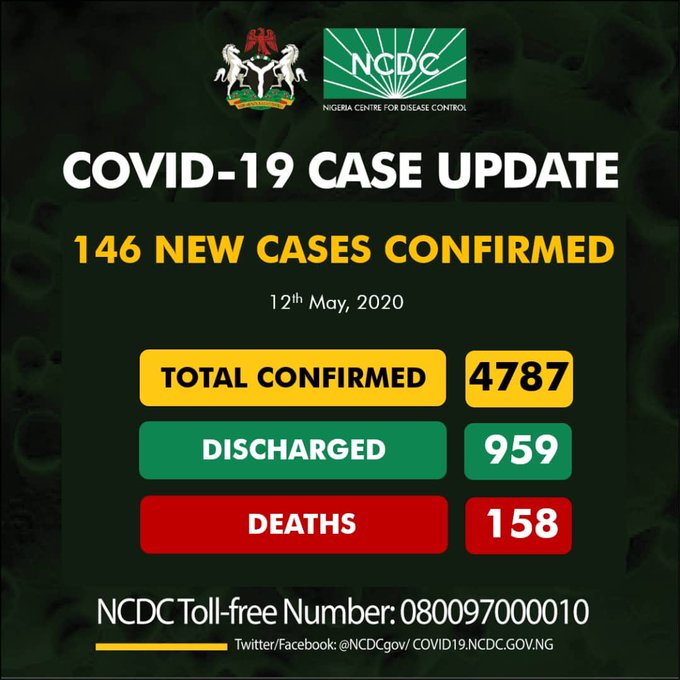 146 cases were reported nationwide. The breakdown is as follows:
57-Lagos 27-Kano 10-Kwara 9-Edo 8-Bauchi 7-Yobe 4-Kebbi 4-Oyo 3-Katsina 3-Niger 2-Plateau 2-Borno 2-Sokoto 2-Benue 1-Gombe 1-Enugu 1-Ebonyi 1-Ogun 1-FCT 1-Rivers.
There are now 4787 cases of COVID19 nationwide.
959 have been discharged while there have been 158 deaths.
Lagos now has 1990 confirmed cases, 1455 of which are active.
The seeming drop in new cases for Lagos comes against the backdrop of reported community transmissions especially with the flagrant disregard for social distancing rules in Lagos.
It is, however, not yet uhuru as testing at over 1000 per day nationwide is barely scratching the surface.
advertisement
Total testing so far reported is put at 28,418 nationwide.
This pales in comparison with federal government projections of 2 million tests by August 2020.
To meet that target there would need to be an average of 22,000 tests per day.
The Lagos state government had rolled out strategies to increase the number of daily tests being done.
One of the ways it planned to meet up its goal was to decentralise testing to local government headquarters, where test samples could be collected and forwarded to the central pool for analyses.